Hi! I am Sassa Buregren, Swedish writer/artist.
Have a look at my literary embroidery and my books: Finnegans Wake, a little bear longing for his dad in jail, a girl who sets out to change the world and a lot more – or contact me for a workshop or talk...
BOOKS | ART | WORKSHOPS | ABOUT | CONTACT
---
BOOKS for children about important topics
For questions about foreign rights, send me an e-mail.
Tecken på papper - Signs on Paper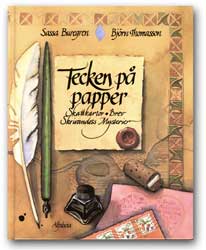 Imagine an old-fashioned letter carefully written on handmade paper with quill dipped in ink, sealed with wax seal ...
In Signs on paper you will find lots of suggestions for beautiful things you did not know you can do yourself. Try to make your own paper and make stationery with envelopes. Or why not bind a small book and see how nice it will be when you write in it with an old squiggly style. You can cut stamps, design monogram and Ex Libris. Here's codes for secret messages, mysterious treasure maps and a simple recipe for patinating paper.
Signs on Paper provides both practical information and inspiration for new, fun ways to use paper and pencil.
Co writer/illustrator: Björn Thomasson.
Reading Age: 8 years and up
Alfabeta Bokförlag 1995 ISBN 91 7712 471 5

Vem är jag? Släktforskning för barn - Who am I? Genealogy for children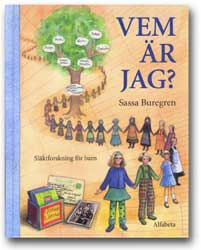 Are you sometimes thinking of who you are? And why you are who you are? And where your name comes from? And from where you have got those eyes of yours? Then do as Jorinda, look into your family history!
Ask the family's oldest what they remember. Get a family box where you can put the piece of information, letters, photos, memorabilia that you find. When you find a new relative, write down all you find out about them and insert them in your family archive. Or even easier, make an archive of family cards, where each generation has its own color. Then it is easy to draw a family tree or start setting up a pedigree. Once you got a picture of your own history, you will also find answers to some of your own thoughts.
WHO AM I? is a beautiful and inspirational book with practical advice and tips. It also gives pedigree charts to fill in, a small family dictionary and genealogy researcher's most important addresses.
Reading Age: 8 years and up
Alfabeta Bokförlag 1997 ISBN 91 7712 767 6
Gyldendal, Denmark 1998 ISBN 87-00-34950-5

Demokratihandboken - The Democracy Handbook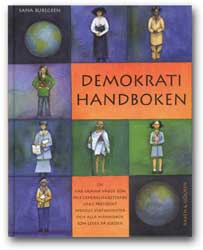 You have the same value as FN.s General, the U.S. President, Prime Minister of Sweden and all people living on earth.
The Democracy Handbook is for you who want to make your voice heard but do not know how to do. Consider a locked door. You have to find the right key before you can get in. The Democracy Handbook shows you how to start when you want to make a difference and use your human rights to influence your life.
Awarded Best non fiction book for children by Swedish Library Association. From the jury motivation:
"The Democratic Handbook is characterized entirely by democratic values ​​and respect for the reader."
Reading Age: 8 and up
Rabén & Sjögren 2001 ISBN 91-29-64866-1
Rabén & Sjögren 2003 ISBN 91-29-65941-8
Jacek Santorski & Co Agencja Wydawnicza, Poland 2007 ISBN 978-83-89763-7
Akashi Shoten Publisher, Japan 2009 ISBN 978-4-7503-2932-1

Lilla feministboken - The Little Book of Feminism
• A necessary book that asks many important questions and explains bits of feminist history in easy terms.
• Gives young girls a much-needed dose of self confidence.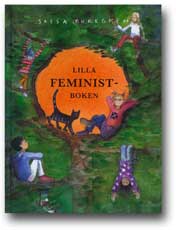 When Ebba is eating her breakfast, she suddenly catches sight of a picture in the newspaper. There are eight men in suits. The most powerful men in the world, it says. Are those the people that decide in the world? Why aren't there any women in the picture? It all seems so strange that Ebba starts an investigation On her way, she learns about what it was like for women in granny's day, and what her own mother did to bring her up exactly the same as she would a boy, which women leaders there actually are (or have been) in the world, but also a number of practical tips about how she make sure her own voice is heard in various contexts.
Reading Age: 8 and up
Tiden 2006 ISBN 91-85243-46-9
Jacek Santorski & Co Agencja Wydawnicza, Poland 2007 978-83-88875-52-3

Trutsommar - Seagull Sommer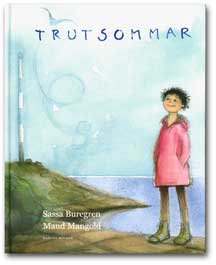 "A little thing huddles inside. Soaked through. Runny nose. Nearly drowned.

"And what is your name then?"

"Shit!"

Sniffing loudly she climbs out. Malty shakes his head. Such a pitiful creature!

"You can't really be called Shit. Listen Shrimp, come with me and we'll dry you off."
Malte Briggs lives on his island with only the wind, the ocean and the seabirds for company. One spring day he gets something new to think about when a blue bag is washed up. The girl who climbs out is an awkward creature, obstinate and hard to talk to. Malty tries various ways to make contact. In the end it is an abandoned baby seagull that breaks down the barriers.
What exactly are Shrimp's problems? Malty guesses that she has been abused and generally mistreated. That's one reason you might climb into a bag and try to close out the world. Not caring where the waves take you so long as you land up somewhere else.
Malty is wise enough to let Shrimp be. He cooks spaghetti for her and shows her where she can find building material to make a shelter. Seagulls are the bane of his life, but if it makes Shrimp happy he is willing to help look after the young chic.
Seagull Summer is about being alone and vulnerable, but also about a sensible adult who understands.
Text: Maud Mangold
Kabusa Böcker 2008 ISBN 978-91-7355-048-2

Pärlor till pappa - Beads for Daddy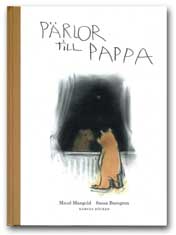 Sonja's daddy is in prison. Why is that?
"When is daddy coming home?" asked Sonja for the hundred millionth time.
"When the time is up,answered Mummy again.

Sonja thinks, Sonja wonders. She has one more question, but it is so hard to ask. It's the why, why did daddy go away."
What was it that happened – and what went so wrong?
Sonja's daddy is away, it feels like he wont be able to come home again for a thousand years. She waits and wonders and misses him. Eventually she packs up her little rucksack and takes off. She has made a string of beads, which she takes along with a pack-lunch, and a torch in case it is dark where he is. The road is long and lonely, but Sonja thinks about her daddy and that makes her brave enough to keep going.
It is not easy for a small chid to understand what prison is. In Sweden, ten thousand children have a parent serving a custodial sentence at any given time. On an annual basis, there are many more. Add to that all the others who are affected; nursery class, neighbours, cousins. It adds up. And yet there are practically no picture books on the subject of what it is like to have a parent in prison.
Beads for Daddy is a work of fiction and deals with the subject as seen through the eyes of the small child. Sonja goes to the prison to make sure that her daddy is doing fine. She also wants to know why he disappeared. Surely it wasn't her fault? When she finally reaches her daddy in prison, all is well, because daddy is daddy despite everything!
We believe that Beads for Daddy can be read for all children. Everyone has heard of prison, haven't they? Don't all children wonder and think about what it's like there!
Text: Maud Mangold
Winner of the Nils Holgersson award 2009 (Swedish Library Association).
Kabusa Böcker 2008 ISBN 978 91 7355 080 2

Kokongs långa resa - Cocoon´s Long Journey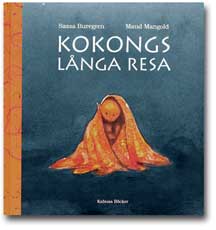 "The station master lifts and shakes,
he turns it while examining.
In the bundle someone wakes,
what on earth is happening?

Goodness me what have we here,
all alone this winter night.
I wont leave you have no fear,
upon this rack half out of sight."
Somebody, with heavy steps, went to give away their little bundle – another finds it in a completely different place. Cocoon's long journey is about leaving one country and finding safety somewhere else.
Cocoon unwillingly faces the new world. It takes both time and love before he can trust the station master who takes care of him. But subsequently they become friends!
"Cocoon is nearing what he seeks,
a friendly wind upon his cheeks.
No-matter where it is you roam,
the road is shorter going home.

The hand holding his is safe and warm,
protection from the winter storm.
For if you travel with a friend
All is well till journey's end."
Text: Maud Mangold
Kabusa Böcker 2011 ISBN 978 91 7355 159 5

Drömkatt - Dreamcat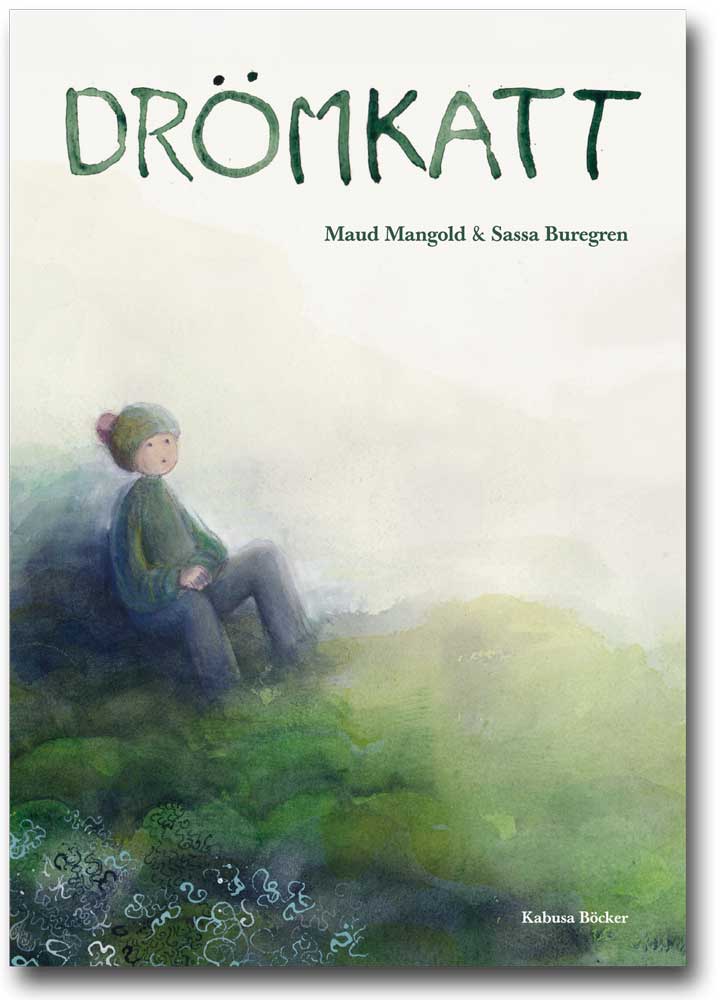 Jomar rowing in the fog and come ashore on an island with black stones and green moss. On the island, he meets the giggling horses turning color, the wise raven and he will meet the Queen at heaven's eye. He's looking for his cat, in the source he sees it, and a hundred other little gray cats.
Dream Cat is a magical, dreamlike tale of longing and about searching for answers. The book asks questions about grief and loss and on how to proceed even when the answer is not there from the beginning given.
"What is he doing here all alone? A little boy.
Alone with the ocean and the mist.
Alone on the island with the black sand.

Jomar has come in search.
He is courageous and strides out.
Striding up over the moss.
He looks bravely around and searches."
What is missing? What is Jomar searching for?
What is it he thinks he will find here on the island?
Perhaps the cat only exists in Jomar's dreams. Could it really be gone? Whatever the case, he must be brave and search until he finds it. Even if it is not possible to get it back…
Text: Maud Mangold
Kabusa Böcker 2013 ISBN 978-91-7355-313-1

Flingan - Little Snowflake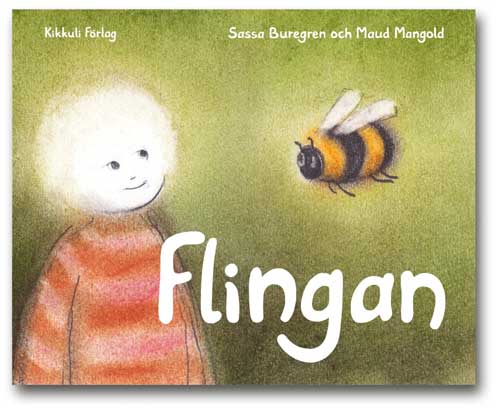 Little Snowflake almost fits in a bluebell. Her world is so quiet that she can´t even hear the thunder roaring. It's lonely and Little Snowflake wonders about the sounds. How do they sound, can you feel them - or even catch them? One day she meets a bumblebee that answers her questions. With a magic hat, she can hear everything, both the beautiful voices and the terrible noises.
Little Snowflake is a fairy tale for small children. It is intended for children with hearing disabilities and children that cope with hearing damage in their everyday lives.
Text: Maud Mangold
Kikkuli Förlag 2014 SBN10: 9189610938, ISBN13: 9789189610934
---
ART – literary embroidery and more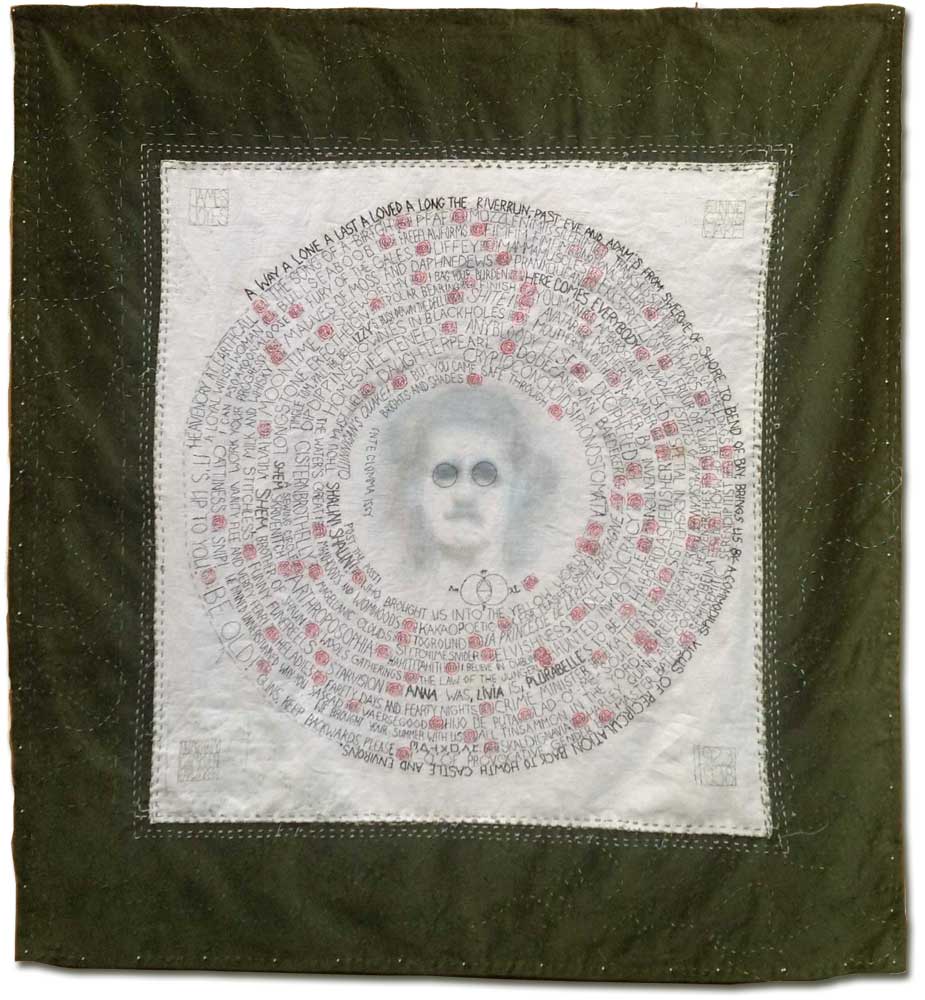 I usually work for periods of one hundred days. In carefully planned projects I make a predetermined portion each day. The works are emerging at a steady pace. It can be a sort of diary or it can be based on a book, a literary embroidery: each day I read a certain number of pages and embroider a word or phrase from what I have read. Working simultaneously with the hands gives the reading a deeper dimension. I choose books very carefully and only those I can read in the original language. Reading aloud helps me understand the text at a deeper level.
Here are more photos of different techniques such as watercolor.
---
WORKSHOPS for children on democracy and equality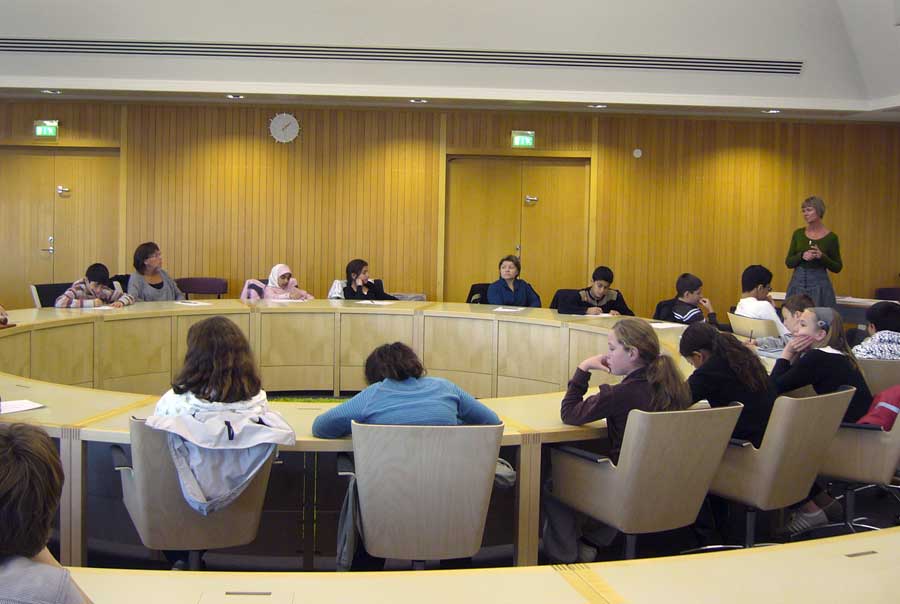 How you can begin to influence society - even if you are a child without voting rights. Age: 10-15 years. 90 minutes.
Would the world be a better place if young people were to participate in the decisions? I am convinced that it would after having several democracy workshops all over Sweden. In this workshop you get an insight into how children see the world and their surroundings, and that they are both solidarity and wise.
Based on The Democracy Handbook (länk) we make lists of what needs to be changed and how to start taking action if you want to influence.
UN Convention on the Rights of the Child, article 12: "Every child has the right to say what they think in all matters affecting them, and to have their views taken seriously."
In Malmö we held the workshop in the City Council Chamber. In Halmstad, we had democracy workshops preceding the election. In the workshops we prepared questions for an open hearing with politicians from all parties involved, where the pupils got to pose their questions and get answers. Farsighted politicians take children seriously.
---
ABOUT ME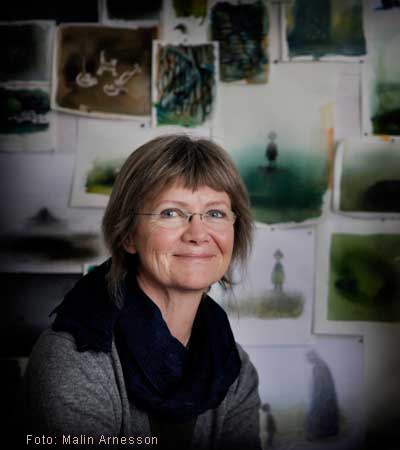 My working life is a constant journey of discovery. Painting and writing are my tools to try to understand the world. For me words and pictures are two languages ​​that goes hand in hand, one nourishing the other.​
I am a member of The Artists Organisation, KRO, and The Swedish Writers' Union where I am a board member on the sektion for children's authors.
I live with my family on the west coast of Sweden in Bua, a small fishing village south of Gothenburg. Living by the sea makes me happy. I love to swim and I appreciate the serenity it brings to gaze at the wide horizon.
---
Sassa Buregren
Guttaredsvägen 16
432 64 Bua
Sweden
Phone: 0340 - 66 17 73, 0707 - 36 48 48
Or here:
---
Posts in English...
2013, week 47: Wielkopolski Kongres Kobiet (congress in Poland)